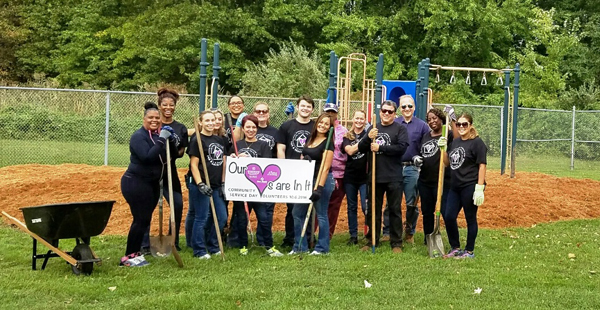 13 Oct

Community Service Day 2016

From Brigantine to Jennersville, from Bethlehem to Wilmington and everywhere in between, more than 1,000 BHHS Fox & Roach/Trident sales associates, employees, managers and friends spent October 6th "Putting their hearts in it" on our annual community service day. Here are just two of the many thank you letters and emails we received from our local non-profit partners.

From the Mercer Street Friends Food Bank —

On behalf of the Mercer Street Friends Food Bank, I extend my heartfelt gratitude to you and all of our friends at Berkshire Hathaway HomeServices Fox & Roach Charities who came to our warehouse on Thursday for a Day of Caring. Your efforts on this day – inspecting and sorting donated food, loading government allocated food into vehicles destined to area agencies, assembling pouches of food destined to provide at-risk children with weekend provisions – has helped our Food Bank distribute to people throughout Mercer County who would otherwise experience pain and indignity of hunger in the community.

I thank all of our friends at BHHSFR/Trident for all of your support in our work to alleviate hunger and look forward to next year's special day!

From the Breathing Room Foundation —

Thank you very much for generously sharing your time and talent with the Breathing Room Foundation. I love service days when volunteers fill our office building working on a variety of projects for our families.

The "chefs" in the kitchen shared their culinary skills for our families with beef stew, chicken soup, chicken casserole and the always popular Rice Krispie treats which went directly to a local family who is caring for their mom who is on hospice after a 3 year battle with ovarian cancer. Her extended family is caring for her at home and your homemade meals will give them the "breathing room" to sit and enjoy a meal together without the fuss of grocery shopping and meal preparation.

Our raffle tickets are sorted and ready to go for our Designer Handbag Bingo on October 21. The volunteers sorted and measured out the strips to fill an entire HUGE basket.

The Berkshire Hathaway artists who decorated the white gift bags for the Snack Bags were amazing! I carefully selected one of your decorated white tote bags to go with a generic bag full of snack bags for the families. Another one of your hand decorated bags went out to a new recipient who is just beginning treatment for tongue cancer. Her grandchildren mean the world to her. We loaded her up with snack bags to share with them when they visit.

Thank you very much for volunteering with the Breathing Room on your Community Service Day!