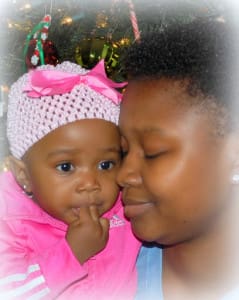 My name is Niketa and I am a 23 year old with a 1 1/2 year old daughter. When I learned I was pregnant, I was not sure how to tell my family – so I did not.
I hid my pregnancy until I was 7 months pregnant, and when my family found out, they wanted me out of the house immediately.
A counselor gave me the number for Good Counsel. I called and spoke to Ms. Martinez who told me if I could get to New Jersey there was a room for me. I only ever lived in New York and was scared. I did not know anything about New Jersey and did not know how I would get there, but I knew I had to go.
I arrived at the Riverside home and when I opened the door I immediately felt welcomed and knew "everything would be all right." Good Counsel provided me with the love and support I was promised but had never received. They gave me food, shelter, all of my basic needs, and a family that supported me without judgement. They taught me how to budget my money, and helped me transfer from a NY company to a local Walgreens where I am employed to this day as a pharmacy technician.
I have been living on my own now for a month and a half, paying for my own apartment, and am providing a better life for my daughter. She has changed my life is so many ways and because of her I want to strive to be the best I can be and a role model for my little girl.
To the staff, volunteers, and donors of Good Counsel – I will always be eternally grateful.
---
Good Counsel is a nationally recognized nonprofit leader in creating supportive residential care and community-based services for homeless, expectant, and new mothers and their children. The Haddonfield Sales Office supports the Good Counsel Home in Riverside, NJ through its Fox & Roach Charities office fund.