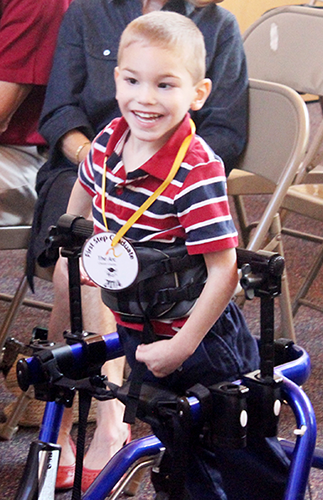 When Max began with The Arc's First Step Classroom Program he was challenged with significant behaviors that impeded his learning. He had difficulty expressing his wants and needs, transitioning to and from activities, resisted adult directed activities, and had limited social interaction with his peers. He required behavioral support, visual strategies, coping strategies, and assistive technology, as well as therapies to refine his gross and fine motor skills.
While attending the program, Max was able to begin to express his wants and needs first through communication strategies and assistive technology progressing to verbal expressions. His disruptive behaviors and tantrums decreased and participation in classroom activities increased. Social interactions began to increase with both peers and adults.
Max's opportunity for success can be attributed to the low student teacher ratio and a highly structured classroom with minimal distractions. Max's progress was so substantial that he was provided the opportunity to participate with the group of children who leave The Arc two days a week to attend a local mainstream preschool. Max required the highest level of support when he entered the First Step classroom and showed the most progress over time to require the least level of support.
Since 2011, Fox & Roach Charities has generously donated over $2,700 for The Arc of Chester County's First Step Intervention classroom program. This funding has supported under and unfunded needs of the program such as nursing support, community outings and music therapy, as well as a 4:1 child to teacher ratio required for specialized instruction for children participating in the preschool.